Looking For Photographers To Test The New Haida Solar Filter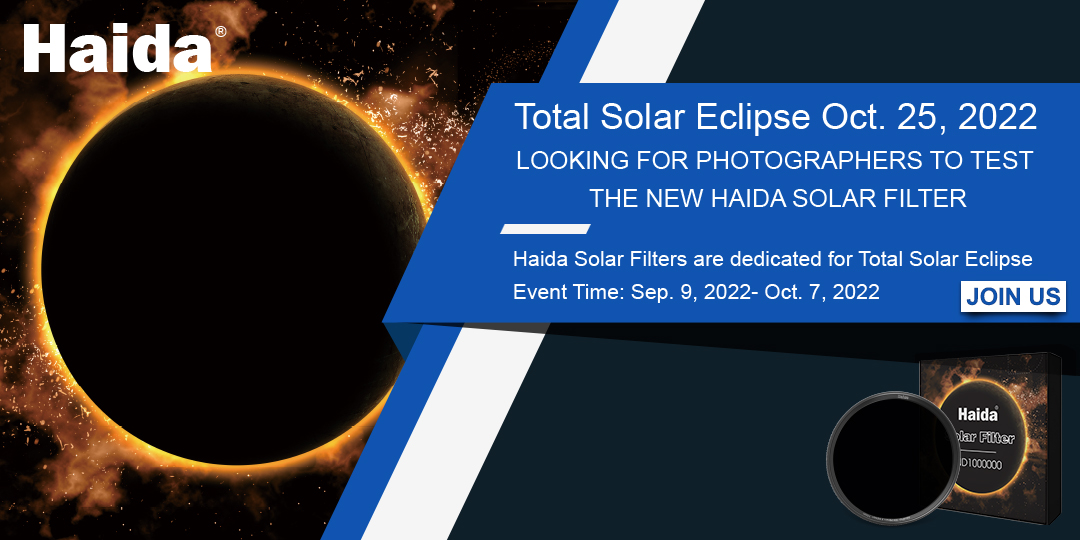 Looking for Photographers to test the NEW Haida Solar Filter

The Solar Eclipse of October 25th, 2022 is coming soon. It will be visible from Europe, the Urals and Western Siberia, Central Asia and Western Asia, and from the north-east of Africa. We are currently looking for 3 professional total solar eclipse photographers who can test our New Solar Filter.

Requirements:
1. You are a professional total eclipse photographer.
2. You have a certain influence on social media, Youtube, Facebook, Instagram.
3. You can see the total solar eclipse on October 25.
4. You need to share your Total Solar Eclipse images taken with Haida Solar Filter on your social media and use the hashtag #haidasolarfilter

Event Time: Sep. 8, 2022 - Oct. 7, 2022

If you are interested in this event, and the opportunity to test the NEW Haida Solar Filter, please send your bio and your previous Total Solar Eclipse images to market05@haidaphoto.com.

You are warmly welcome to join us to enjoy the Total Solar Eclipse together!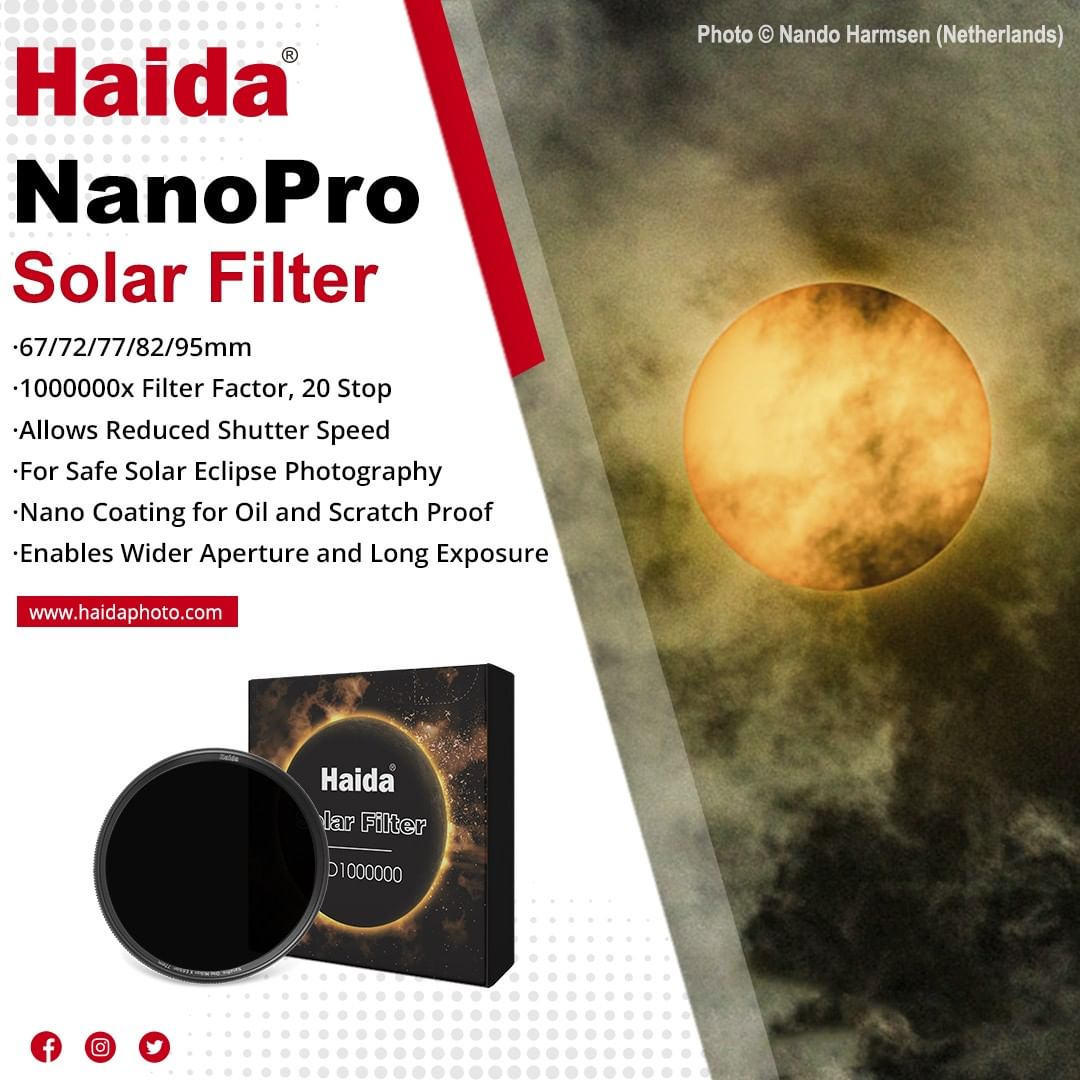 More Information about Haida Solar Filter:

For Eclipse photography, several online tutorials mention using a neutral density filter or stacking neutral density (ND) filters. We ONLY recommend using a properly designated solar filter. We are not alone in this recommendation.

Experts at NASA, the National Science Foundation, the American Astronomical Society, Nikon, Space.com, Sky & Telescope magazine, and others all recommend solar filters instead of neutral density filters. Why? Because these are the only filters designed specifically for viewing the sun, and they are constructed to not only sufficiently dim the sunlight, but they also protect your eyes and equipment from non-visible IR and UV radiation.

Solar photography is NOT the time to experiment with homemade filtration concoctions, like stacking polarizers and ND filters, in an effort to save a few bucks.

Haida Solar Filter provides a 20-stop exposure reduction, and its 6.0 density creates a darkening of the entire image with a 0.0001% transmittance that is effective for solar and solar eclipse photography.

With this filter, users can capture photographs with a wider aperture or a slower shutter speed than normally required. The filter material provides an accurate neutral color rendition without any noticeable color-cast to the images, and its vapor-deposition application to the glass lens ensures an even and consistent layer.

An aluminum-alloy filter ring holds the filter for durability while remaining lightweight. The filter is not suitable for direct solar viewing with the naked eye, and should only be used for photography purposes.

Available Sizes: 67mm/72mm/77mm/82mm/95mm
Please order them from our authorized dealers in your country!
https://haidaphoto.com/en/store.html